Passing It On: From Bernard Leach to Jeff Oestreich
to the Midwest and Beyond

CRAFT IN AMERICA CENTER
January 18, 2014 - March 8, 2014

Roundtable Discussion: "Keeping Pottery Traditions Alive" on February 22, 2014 at 5pm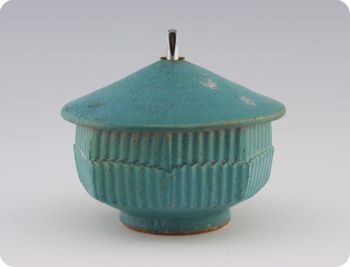 Los Angeles, CA – The Craft in America Center will feature an exhibition of work by acclaimed potter Jeff Oestreich and the circle of artists who have passed through his studio in Minnesota from the early 1970s to the present. Oestreich, who was profiled in Craft in America's 2012 documentary episode Crossroads, was trained in the austere simplicity of traditional Asian pottery while serving as an apprentice to Bernard Leach in England in the 1960s. Upon his return to the states in 1971, he began to disseminate Leach's legacy to numerous American ceramists who have carried the messages forward. This exhibition will reflect the passing on of traditions, attitudes, studio and making practices, and aesthetic values. It will pay homage to Oestreich's role as an influential voice in contemporary pottery.

Driven to achieve a personal style, Oestreich overlaid his traditionally-trained background with a passion for Art Deco design and a ceaseless exploration
of glaze and decoration techniques. His signature "beaked pitcher" is the refinement of a personal challenge to combine form and function elegantly. Jeff has exhibited widely in museums and galleries world-wide; his work can be found in the outstanding collections of the Victoria and Albert Museum, the Incheon World Ceramic Center, the Smithsonian's Renwick Gallery, and the Los Angeles County Museum of Art among others. The artists he has invited to participate in the exhibition have each forged their own careers and attained the highest accolades for their work.

Featured artists from the U.S.: Randy Johnston, Pat Burns, Andy Balmer, Linda Christianson, Scott Goldberg, George Rector, Malcolm Davis, Gail Kendall, Posey Bacopoulos, Marlene Jack, Charlie Maag and Tim Heil.

From abroad: John Dawson, Renton and Rosie Murray, Micki Schloessingk, Sandy Lockwood, Neil Hoffmann, and Greg Crowe.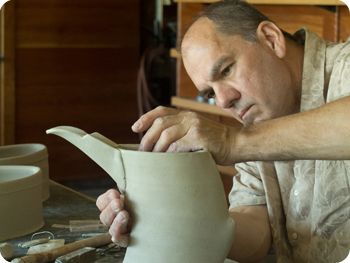 About CRAFT IN AMERICA
Craft in America is a Los Angeles based non-profit organization dedicated to promoting and advancing original handcrafted work, through educational programs in all media, accessible to all. The Craft in America project includes a national prime time PBS documentary series, a 300-page companion book, traveling museum exhibitions, and an extensive website with teachers' guides and video clips of artists at work. The Craft in America Center is an extensive craft-focused library, an archive of video footage, and a gallery space with rotating exhibitions featuring the work of contemporary artists who work in craft.

The Craft in America Center is located at 8415 West Third Street, 2 blocks East of La Cienega. The Center is open Wednesday—Saturday from 12:00—6:00 pm. For more information: info@craftinamerica.org or (323) 951-0610.