Rules of Seeing: Hidde Van Duym and Collage
November 8, 2013 - January 4, 2014
Los Angeles- The Craft in America Center will focus on the craft of collage this fall with an exhibition and a two day in-house workshop to be held on November 9th and 10th. The workshop will be taught by self-declared "image junkie" and watercolorist Hidde Van Duym. The workshop will be a rare, intimate opportunity for a small group to come together and create a collaborative collage that will be installed at the center upon completion.

Van Duym's work will be on view in an exhibition at the center from November 8th through January 4th, 2014. On the evening of the opening of his show, Van Duym will give a talk entitled, Rules of Seeing: an Overview of Collage, to launch the weekend celebration of the properties, process and meaning of collage.

Largely a self-taught artist, Van Duym worked with lithography, etching and welding before beginning to experiment with three-dimensional watercolor montage in the early 1980s. Van Duym's exhibition, lecture and workshop will ponder the nature of collage as an expressive medium with distinct characteristics. Van Duym will guide the group to consider the hidden connections that emerge when diverse materials are brought together to form a theme, story or design.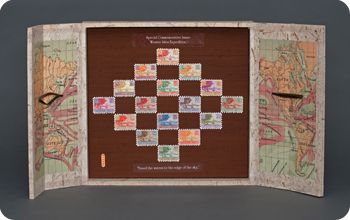 Event Details:

Opening for Rules of Seeing: An Overview of Collage
Friday, November 8, 2013 5:00-8:00 pm
Craft in America Center, 8415 W. 3rd Street
The reception will begin at 5:00 pm, and Hidde Van Duym will speak on the topic of collage beginning at 7:00 pm. This event is free and open to the public. Please RSVP to rsvp@craftinamerica.org.

Workshop: Collage: The Power of Self
Saturday, November 9-10, 2013
Craft in America Center, 8415 W. 3rd Street
The workshop will culminate in the collective creation of a large-size collage to be installed at the Craft in America Center.

A tentative schedule for the weekend:
Saturday:
10:00am-12:00pm: Each person brings and discusses a favorite collage
12:00-1:00pm: Lunch (independent)
1:00-4:00pm: Work individually on one or more personal collage mandala(s) using LA Times Sunday edition scraps

Sunday:
10:00am-2:00pm: Envision and produce a group project. Lunch will be provided.

Workshop participants are expected to bring their own ruler, bone folder, weights, scissors and/or knives, tweezers/tongs, adhesives, cutting mats & brushes. There is a $110 fee which includes Sunday lunch. To reserve a space, please use the Paypal link below.