For Immediate Release
Los Angeles sculptor creates a gingerbread skid row street scene to raise awareness of homelessness at the Craft in America Study Center, Saturday, December 15, 2012 from 12-6pm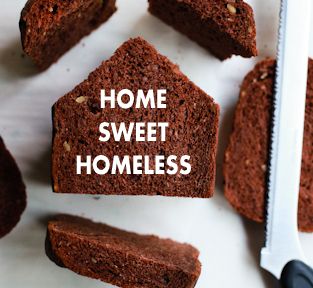 (Los Angeles, CA)- Sienna DeGovia, Los Angeles artist and food stylist gives new meaning to the holiday Gingerbread House tradition by creating a Gingerbread Skid Row Street Corner in the window of the Craft in America Study Center (CIASC), on Saturday December 15th from 12-6pm. There is no fee to view the performance, but viewers are encouraged to bring canned food which will be donated to a local homeless shelter.

The performance piece was conceived by DeGovia in conjunction with the Study Center's current three-part exhibition focusing on the intersection of contemporary craft and food, Good Enough to Eat: the Fusion of Food and Craft. These shows explore work by innovative artists who are redefining the role of handcrafted objects (product artifacts) in relationship to our increasingly food-centric culture.

The current exhibition, Food as Impetus for Craft (through January 19, 2013) features elegant and impeccably crafted tools and serving vessels created for food preparation, presentation, and storage. The second portion, Food as Subject for Craft, (February 2 - April 6, 2013) features work by artists who visually depict or conceptually embrace food as their subject. The final portion of the exhibition, Food as Medium for Craft (April 20 – June 22, 2013), includes a range of work created from edible materials.




About Sienna DeGovia
Sienna started exploring the deep connection between sustenance and aesthetics and the food/beauty connection while at California College of the Arts, where she earned a BFA in sculpture. At CCA, she created works that used the edible object as a means of evoking an emotional response. She now channels her passion for all things gastronomical into commercial work as a food stylist for editorial and advertising print, film, and commercial spots. She believes that her work as a fine artist and as a commercial food stylist inform and benefit each other. For more information, visit www.siennacake.com

About CRAFT IN AMERICA
Craft in America is a Los Angeles-based non-profit organization dedicated to promoting and advancing original handcrafted work, through educational programs in all media, accessible to all. The CRAFT IN AMERICA project includes a national prime time PBS documentary series, a 300-page companion book, traveling museum exhibitions, and an extensive website with teachers' guides and video clips of artists at work. The CRAFT IN AMERICA Study Center is an extensive craft-focused library, an archive of video footage, and a gallery space with rotating exhibitions featuring the work of contemporary artists who work in craft.

The Craft in America Study Center is located at 8415 West Third Street, 2 blocks East of La Cienega. The Study Center is open Thursday - Saturday from 12:00 - 6:00 pm. For more information: info@craftinamerica.org or (323) 951-0610.