Craft in America Study Center presents an artfully delicious talk and book signing by pastry chef Caitlin Freeman of Miette Bakery and Blue Bottle (SF)
in conjunction with the third installment of
FOOD AS MEDIUM FOR CRAFT
April 20, 2013 – June 22, 2013

Please join us on Saturday, April 27 at 6pm
Caitlin Freeman will share her inspiration, excitement, and love of creating unique desserts inspired by masters of modern art from her book, Modern Art Desserts. She will share pastry secrets so you, too can craft these elegant, ironic works of kitchen magic at home. Sweet treats to follow.

Admission is free, donations are welcome
Please rvsp: rsvp@craftinamerica.org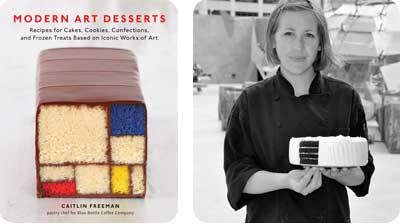 Modern Art Desserts: Recipes for Cakes, Cookies, Confections, and Frozen Treats Based on Iconic Works of Art

Desserts to thrill the eye and palate, based on work by Andy Warhol, Frida Kahlo, Henri Matisse, and other modern artists to create a collection of uniquely delicious dessert recipes

Books available for purchase at the event
_________________________________________________

About CRAFT IN AMERICA
Craft in America is a Los Angeles-based non-profit organization dedicated to promoting and advancing original handcrafted work, through educational programs in all media, accessible to all. The Craft in America project includes a national prime time PBS documentary series, a 300-page companion book, traveling museum exhibitions, and an extensive website with teachers' guides and video clips of artists at work. The Craft in America Study Center is an extensive craft-focused library, an archive of video footage, and a gallery space with rotating exhibitions featuring the work of contemporary artists who work in craft.

The Craft in America Study Center is located at 8415 West Third Street, 2 blocks East of La Cienega. The Study Center is open Thursday - Saturday from 12:00 - 6:00 pm.

For more information: info@craftinamerica.org or (323) 951-0610.