Body Conscious: Southern California Fiber
CRAFT IN AMERICA CENTER
August 23, 2014 – October 25, 2014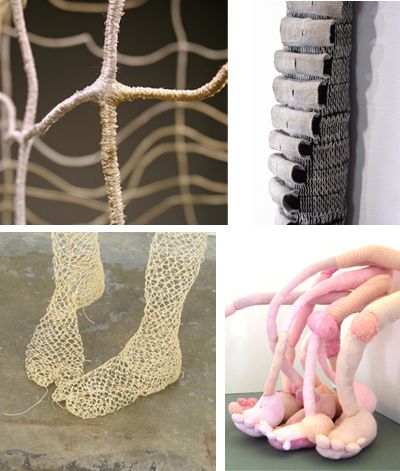 The Craft in America Center is pleased to present Body Conscious: Southern California Fiber, an exhibition of nine forward-looking fiber artists operating in and around the framework of the human body. This geo-specific exhibition ventures to capture the aura of fiber art in Southern California, as well as to chart the region's potential impact on the craft. Los Angeles is, after all, the veritable tastemaker of body image. It has also been a fertile region for the development of fiber as an artistic medium for expression.

Far from a static entity, the body undergoes change, self-induced or otherwise, on a daily basis. Our bodies go where we go, and with them we carry our biology, our sexuality, and our self-awareness. These are the things that make us tick, and the artists in Body Conscious uniquely present this motley portrait while employing a medium that is most conducive to articulating these themes.

Some artists capture the stuff beneath the surface, like Ben Cuevas with his knit skeleton and organs, or Carrie Ann Burckle with her Spine weaving. What makes fiber so compelling to use for the fabrication of body parts? Traditionally rendered in synthetic materials and displayed in clinical settings, bones and organs of fiber offer up an incongruous yet gentler, and more tactile look at our inner machinery.

Fragmented body parts appear in Miyoshi Barosh's collection of cotton candy-pink legs emerging from a wall. They are something you might find in a Muppets cartoon—playful, over-sized, and exaggerated.

Tackling outward appearances are artists like Luke Haynes and Ashley V. Blalock. Haynes' quilt portrait of a self-assured woman with cupcake in hand, part of his "Clothes Portrait" series, is comprised of the very clothing his sitter wore when she posed. Ashley V. Blalock's Complements, an installation of variegated breasts made from silicone and thread, call to mind our culture's obsession with altering our appearances, as well as the standardization of beauty: Blalock's "complements" were made by extruding silicone caulking into champagne coupes, the shape mistakenly thought to be based on the size of the female breast.

Ellen Schinderman's pornographic embroideries are shocking and welcome new territory for fiber. The subject matter is all too apropos, keeping in mind the industry that has put the San Fernando Valley on the map.

Fiber art is also borne from direct engagement between body and material. Annette Heully makes knotless, netted forms of her legs. They float in space as hollow entities, palpable and yet ephemeral. Jennifer Reifsneider uses her body as a metaphorical tool. In Slip Grid, she charts the latitudes of her body, creating a sort of map. Zac Monday crochets vivid and elaborate costumes and headdresses that instantaneously transform the wearer into otherworldly creature.

This will be a rare chance to get a taste of the energy and vitality of the regional fiber art scene. Work by these innovators will be on view at the center early this fall. Body Conscious: Southern California Fiber will run from August 23, 2014 – October 25, 2014 with various programming associated with the exhibition to be scheduled. Please see www.craftinamerica.org for more information.