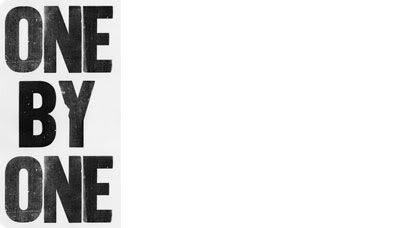 One by One


An Exploration of Book as Medium
March 3 - May 14, 2010
The Craft in America Study Center will be celebrating contemporary Book Arts with our exhibition "One by One" an exploration of the book as medium. This exhibition will gather the works of some of the most influential book artists and will be on view at the Craft in America Study Center from March 3rd through May 14th, 2010.

(Los Angeles, CA)

A diverse art form, book arts are not easily defined and contain a variety of traditions, techniques, and technologies. With a history that spans the illuminated books of William Blake, the avant-garde of the early 20th century, and contemporary works, the book arts are an agile medium, reflecting the culture of the times. The Craft in America Study Center will feature works from book artists including, Carolee Campbell, Rebecca Chamlee, Julie Chen, Johanna Drucker, Barbara Maloutas, Kitty Maryatt, Katherine Ng, Harry Reese and Sandra Reese. These artists showcase the art form in all its diversity, from fine press books to flag books. Their three-dimensional pieces blend text, image and format, and engage with themes as diverse as the environment, family legacy, and play.

Related Events
Complimenting this exhibition are a number of events and receptions. An artist's reception and talk with Julie Chen will be held on March 18th at 5 pm, at the Craft in America Study Center. A reception and discussion with artists Barbara Maloutas and Rebecca Chamlee at the Craft in America Study Center will be held on April 1st at 5pm. Events are free, RSVP required, wine receptions to follow.

A panel discussion at the William Andrews Clark Memorial Library in Los Angeles will take place on March 19th. Julie Chen, Carolee Campbell, and Harry Reese, artists included in the One by One exhibition, will discuss the concept of craft and its relation to book arts. The panel will be moderated by Kathleen Walkup, acclaimed book artist and director of the Book Arts Program at Mills College in Oakland. Free, RSVP required.

Rock Scissor Paper designers, Susie & Heidi Bauer, instruct this month's workshop at the Craft in America Study Center. March 5, 12pm and 3pm. Explore the joys of simple accordion fold bookbinding, ages 8 to adults welcome. NO CHARGE, materials provided. Limited seating, RSVP required.

Please RSVP to info@craftinamerica.org or (310) 659-9022.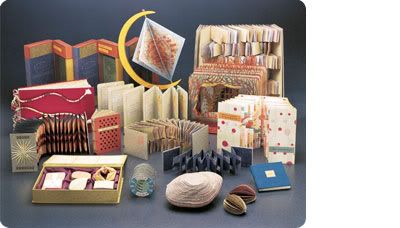 Julie Chen, Flying Fish Press, Siblia Savage photo.



Julie Chen, Personal Paradigms: A Game of Human Experience, Siblia Savage photo.


About Craft in America
Craft in America is a Los Angeles-based non-profit organization dedicated to promoting and advancing original handcrafted work, through educational programs in all media, accessible to all. The Craft in America project includes a national prime time PBS documentary series, a 300-page companion book, traveling museum exhibitions, and an extensive website with teachers' guides and video clips of artists at work. The Study Center is an extensive craft-focused library, an archive of video footage, and a gallery space with rotating exhibitions featuring the work of contemporary artists who work in craft media.

The Craft in America Study Center is located at 8415 W. Third St., 2 blocks East of La Cienega and open Thursday, Friday, and Saturday from 12-6pm.

Visit Our Website
View a Video of Julie Chen Talking About Her Work
View a Video of Kathleen Walkup Talking About Her Work