The Craft in America Center will hold a print-your-own chocolate bar wrapper workshop and chocolate tasting with Los Angeles artisanal chocolatier Compartés on Saturday June 15th
In conjunction with the third installment of 
the Good Enough to Eat exhibition series, FOOD AS MEDIUM FOR CRAFT, April 20, 2013 – June 22, 2013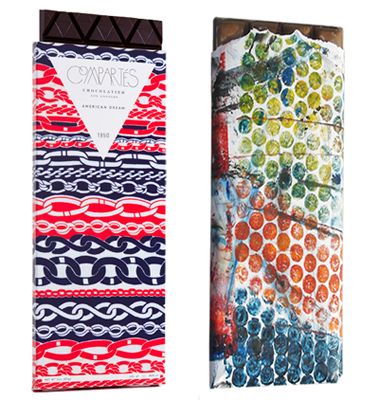 Surprise your dad with the ultimate gift, a Compartés chocolate bar wrapped in your own hand-printed creation. The wrapper will be a keeper, but he won't be able to keep his hands off the chocolate for long. Printmaker Christina Carroll will teach students the fundamentals of the monotype printing process. Jonathan Grahm, chocolatier extraordinaire, will discuss the artistry of chocolate-making and lead a tasting that is sure to get your artistic juices flowing.

$45 fee, includes materials, tasting, and one chocolate bar.
Sessions will be held on Saturday, June 15 at 12pm and 3pm.



Compartés has been a Los Angeles chocolate tradition for over 60 years. Founded in 1950 on the principle of bringing European chocolate techniques, recipes and artistry to the United States, today Compartés gourmet chocolates continue to appeal to gourmet food lovers worldwide. Helmed by chocolate prodigy Jonathan Grahm, Comparte Chocolatier's premium organic gourmet chocolates are made in house from scratch daily using all natural ingredients. Compartés Chocolatier uses only the world's best ingredients, primarily using single-origin chocolate from South American countries such as Venezuela, Ecuador and Peru and combines this with the freshest locally sourced ingredients including fruits and spices from local Los Angeles farmers markets or organic nuts that are roasted in their own kitchen.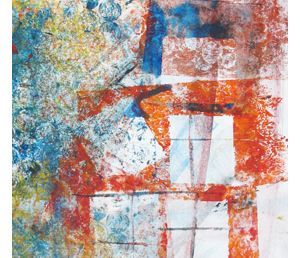 Christina Carroll began experimenting with the monotype process and it triggered a delightful synthesis of the artist's intrinsic qualities and temperament. Sometimes ideas and emotions expressed while inking the plate indulge a free, unordered, untamed and impulsive energy. In the finished print, with its pristine edges and clean borders so crisp and polite, another satisfaction is found in its neat balance. The monotype's printed image is a foundation in her work as she explores three-dimensional forms, artist books and cut paper collage.

About CRAFT IN AMERICA 

Craft in America is a Los Angeles-based non-profit organization dedicated to promoting and advancing original handcrafted work, through educational programs in all media, accessible to all. The Craft in America project includes a national prime time PBS documentary series, a 300-page companion book, traveling museum exhibitions, and an extensive website with teachers' guides and video clips of artists at work. The Craft in America Center is an extensive craft-focused library, an archive of video footage, and a gallery space with rotating exhibitions featuring the work of contemporary artists who work in craft.



The Craft in America Center is located at 8415 West Third Street, 2 blocks East of La Cienega and is open Thursday - Saturday from 12:00 - 6:00 pm. 



Restricted metered parking available in surrounding neighborhood and West Third Street valet parking available at Orlando Street, in front of Magnolia Bakery.
For more information: info@craftinamerica.org or (323) 951-0610.