For Immediate Release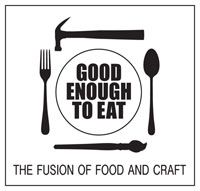 Iconoclast artist Peter Shire and food guru Evan Kleiman pair up for a salon session on food and craft at Craft in America Study Center

Saturday March 23, 2013 at 5pm and 7:30pm
(Los Angeles, CA) - The Craft in America Study Center proudly hosts a salon discussion with two of Los Angeles' most outspoken taste makers; author and restaurateur Evan Kleiman and multi-media sculptor and designer Peter Shire to complement the center's exhibition, Good Enough to Eat: Food as Subject for Craft. The event is a chance to hear firsthand from these two Los Angeles-born luminaries how food and craft have collided in their careers and lives. The unlikely pair will muse about childhood recollections of the city's eastside, local edible and artistic inspirations, the meaning of handmade, and the evolution of food and art in Southern California.

Kleiman and Shire are known for achievements in two distinctly separate fields, however they share a surprising amount in common, which will be the basis for the conversation. They will touch on how life in Los Angeles and pivotal stints in Italy shaped both of their careers and provided new channels for their creative energy. Having first made names for themselves in the 1980s, they will reflect on the climate of that decade and how the tide may have turned. Join them as they discuss design, politics, memory and the expressive potential of food. Audience participation is encouraged and welcomed. There is no charge for this public event.

Tastemakers: Evan Kleiman and Peter Shire on Food and Craft
For reservations: rsvp@craftinamerica.org

Evan Kleiman, chef, author, radio host, and restaurateur, inspires the food community through her KCRW radio show, Good Food. As host since 1997, she has interviewed more than 6000 guests. Opening her restaurant in 1984, Angeli Caffe, became an L.A. institution that changed the way Americans looked at Italian rustic cooking. Over 28 years, Angeli shaped American cuisine with its focus on simplicity and quality ingredients. The founder of LA's, Slow Food Chapter, Kleiman now serves on the Stewardship Council for Roots of Change and is a member of the Los Angeles Food Policy Council.

Peter Shire escapes categorization with work that slips through the confines of the art world. Throughout his career, he has challenged the traditional hierarchy of "fine art" by working in materials and techniques that have been historically marginalized. He is renowned for creating table objects that question the nature of functionalism in addition to purely sculptural art works. As a founding member of the Memphis group in Milan, he played an integral part in the post-modernist dialogue. Shire's works have been exhibited in numerous solo and group shows, nationally and internationally, and included in many public collections and museums.

About CRAFT IN AMERICA
Craft in America is a Los Angeles-based non-profit organization dedicated to promoting and advancing original handcrafted work, through educational programs in all media, accessible to all. The Craft in America project includes a national prime time PBS documentary series, a 300-page companion book, traveling museum exhibitions, and an extensive website with teachers' guides and video clips of artists at work. The CRAFT IN AMERICA Study Center is an extensive craft-focused library, an archive of video footage, and a gallery space with rotating exhibitions featuring the work of contemporary artists who work in craft.

The Craft in America Study Center is located at 8415 West Third Street, 2 blocks East of La Cienega. The Study Center is open Thursday – Saturday from 12:00 - 6:00 pm. For more information: info@craftinamerica.org or (323) 951-0610.