For Immediate Release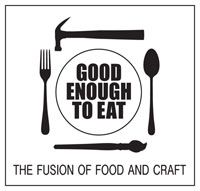 The Craft in America Study Center serves up the second course of its three-part exhibition: FOOD AS SUBJECT FOR CRAFT
February 2, 2013 - April 6, 2013
(Los Angeles, CA)- On February 2, 2013 the Craft in America Study Center will proudly continue its three-part exhibition focusing on the intersection of contemporary craft and food, "Good Enough to Eat: the Fusion of Food and Craft". These shows will explore work by innovators who are redefining craft and the new role that it serves in our increasingly food-centric culture.

Food is on our minds, saturating popular culture like never before and providing artists with endless inspiration. The second portion of the exhibition, "Food as Subject for Craft," will feature work by artists who deal with edible subject matter in their creations, through visual depiction or conceptual reference. While much craft evolved from the purpose of aiding in food preparation or presentation, now artists are using craft for more expressive and sculptural purposes.





Among the selected artists, glass maestra Beth Lipman brings the still life into 3-dimensions with bountiful sculptures that appear frozen in time. Sienna DeGovia explores issues of superficiality and overindulgence through polymer sculptures of candy and other hyper-saccharinated treats. Dealing with memory and the meaning of home, Jennifer Halvorson uses objects associated with the kitchen as elements in her poetic assemblages. In their gifted hands, what we eat and drink is a launching point for crafting narratives with deeper associations and meaning.

The final portion of the exhibition Food as medium for Craft will follow and be on view April 20, 2013 – June 22, 2013. It will include a range of work created from edible materials. The show will span from professional artists who are boldly experimenting with new substances, to master carvers from beyond the traditional confines of the art world who sculpt fruit, vegetable and dairy products into over-the-top showstoppers.

The "Good Enough to Eat" exhibition series promises to be a feast for the senses.

Exhibiting artists include: Eric Boos, Christina Carroll, Sienna DeGovia, Linda Dolack, Harriet Freedman, Susan Garson, Jennifer Halvorson, Candace Kling, Ed Bing Lee, Beth Lipman, Hilary Pfeifer, Norm Sartorius, Peter Schilling, Peter Shire, Alice Simpson, and Laura Wood.




Programming woven throughout the duration of the exhibition series will examine the new wave of edible or consumable craft with talks and demonstrations by noted artisanal food pioneers, food authors and food stylists.

LECTURES & WORKSHOPS

March 23, 2013
Discussion between multimedia artist-designer and icon Peter Shire and host of KCRW's Good Food Evan Kleiman. Peter Shire & Evan Kleiman discuss how food and art have converged in their lives and work.

April 6, 2013
"Good Enough to Eat" workshop – Food for Thought
Instructors: Cameron and Julia Taylor-Brown
The teaching artists bring in a variety of colorful, textural food items that will be carefully examined (and ultimately consumed) by the workshop participants- for example- a pomegranate, a kiwi, an apple tart, an exquisite piece of artisan chocolate, even a can of cranberry jelly pushed intact onto a plate, ridges a-wiggle. We look, discuss, slice, look again and nibble. Baskets for gathering and containing food are among the most ancient examples of craft, and our careful observations will inspire the design of a contemporary version of this most ancient vessel. Participants will layer yarn, paper and cloth scraps onto a balloon template, creating a striking object that interprets their food inspiration through color, pattern and form. Once the project is dry, the balloon is popped, leaving the fiber intact. The process itself is simple but results in a unique crafted basket that could be sculptural or functional, depending on the intent of the maker.

About CRAFT IN AMERICA
Craft in America is a Los Angeles-based non-profit organization dedicated to promoting and advancing original handcrafted work, through educational programs in all media, accessible to all. The CRAFT IN AMERICA project includes a national prime time PBS documentary series, a 300-page companion book, traveling museum exhibitions, and an extensive website with teachers' guides and video clips of artists at work. The CRAFT IN AMERICA Study Center is an extensive craft-focused library, an archive of video footage, and a gallery space with rotating exhibitions featuring the work of contemporary artists who work in craft.

The Craft in America Study Center is located at 8415 West Third Street, 2 blocks East of La Cienega. The Study Center is open Thursday - Saturday from 12:00 - 6:00 pm. For more information: info@craftinamerica.org or (323) 951-0610.